Ubah has three components.
First, Ubah has an academic component, its raison d'etre. The academic component comprises of formal and informal sessions designed separately for adults or students, individually or in groups. The content of these sessions depends on the learner's needs. In the case of high school students, they may be at sub-standard level of education, unable to cope with the academic work in their schools. In the case of adults, the academic sessions are organized so they can earn a General Education Diploma (GED), learn about computers, or improve their English.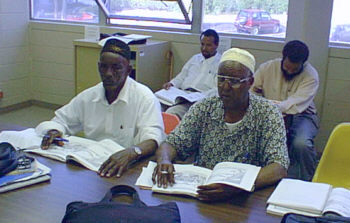 Second, Ubah has a community component. The program staff facilitates or is planning meetings, seminars, conferences, training sessions, and citizenship courses for community members who ask for them. Ubah can also coordinate meeting space and whole events for community groups.
Third, Ubah has a counseling component. Community volunteers and program staff sit with clients and counsel them on academic or life issues, according to the client's needs.
The prospective learners of the program could exceed the hundreds. However, for the sake of efficiency Ubah has planned for an enrollment of 120 to 200 learners.
Curriculum
Ubah learners themselves are assessed through their success in achieving their personal goals. Except for those who are taking ESL classes together, each learner's curriculum is different from those of others. An adult's success is ultimately evaluated on the ability to progress to or pass the GED test, or learn to function skillfully in the workplace. In the case of youth, they might need to develop competencies to enroll in a college or a university. Schoolchildren are only evaluated on the effort and the expertise they put on their homework, which will, hopefully, have a positive impact on their schoolwork.